Giving Beekeeping Guidance by cOmputatiOnal-assisted Decision making
Insects journal invites submissions for its Special Issue "Healthy and Sustainable Beekeeping"
This press release was originally published by EurekAlert! and AlphaGalileo.
B-GOOD organises a new Special Issue focusing on solutions to enhance sustainable beekeeping and improve bee management.
The "Healthy and Sustainable Beekeeping" Special Issue in the open-access journal by MDPI Insects aims to bring together research articles and reviews of various disciplines related to the beekeeping of Apis spp. (including Apis mellifera and any of the Asian honey bees).
The editing and publication of the collection will be implemented within the scope of the European Horizon 2020 project B-GOOD, aiming at improving honey bee health and beekeeping sustainability in Europe and beyond. As a multi-disciplinary project dedicated to providing practical scientific solutions to the diverse problems beekeepers face, B-GOOD designs innovative technologies that facilitate the care and management of bee hives. Following a core objective to maximise its external visibility and impact, the project organises the Special issue as part of its communication and dissemination plan before the project ends in November 2023.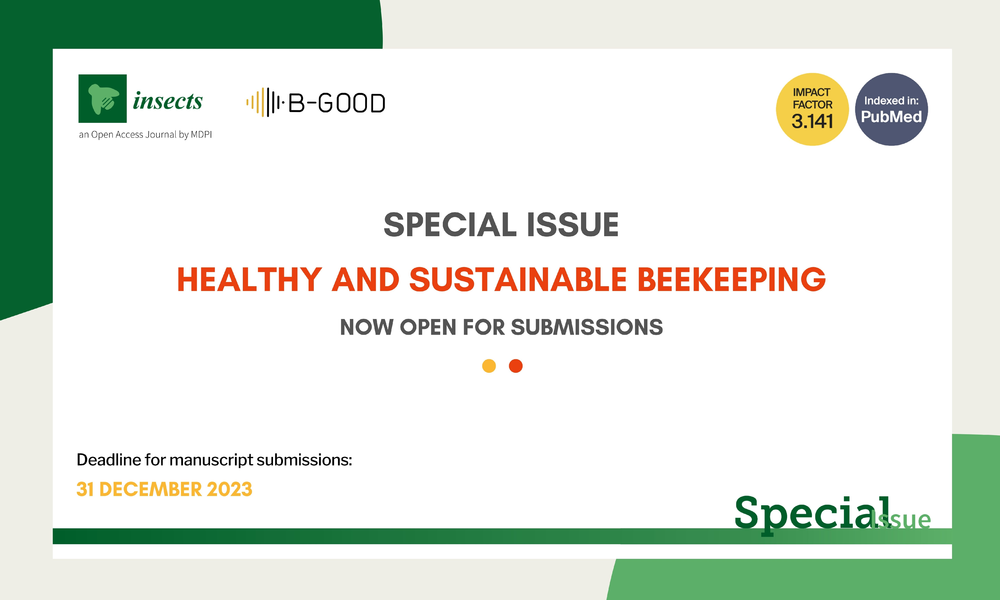 Special Issue "Healthy and Sustainable Beekeeping"
The Special Issue will be focused on solutions to enhance sustainable beekeeping and improve bee management. Topics of particular interest include health monitoring, socio-economics, mitigation of stressors, and improvement of pest control and precision beekeeping. However, candidate authors may also submit articles related to other topics.
"The recent unsustainable colony loss rates and deterioration of honey bee health observed globally call for adequate mitigation measures. Evidence-based solutions are key to solving these issues. Thus, research plays a central role in providing fundamental and practical knowledge to design strategies needed to combat poor colony health."

- Message from the guest editors Prof. Dr. Dirk C. De Graaf, Dr. Alexis L. Beaurepaire and Dr. James D. Ellis
The Insects journal invites research articles, review articles, and short communications, which can be submitted online until 31 December 2023. All submissions that pass pre-check will undergo peer-review, and accepted papers will be published continuously in the journal and listed on the special issue website. Manuscripts should not have been previously published or under consideration elsewhere. Find more about the "Healthy and Sustainable Beekeeping" Special Issue and the submission process here.
Special issue editors:

###

About Insects
Insects (ISSN 2075-4450) is an international, peer-reviewed open-access journal of entomology published by MDPI online monthly. It publishes reviews, research papers and communications related to the biology, physiology, behaviour and management of arthropods as well as their interactions with human societies, plants, and ecosystem services. Their aim is to encourage scientists to publish their experimental and theoretical results in as much detail as possible.